Frequently Asked Questions
---
Here's a list that covers most topics people ask when booking with us. If this resource page doesn't have the answers you're looking for, you can always reach out to us. We're here to help!
Q:

What are your service areas?

We will travel to anyone in Orlando and surrounding communities. Below is a list of our current mobile units and the regions they primarily service.
PupLuxe West will prioritize clients living in the following cities/areas:
West Orlando
Winter Garden
Ocoee
Apopka
Windermere
Dr. Phillips
Horizon West
PupLuxe East will prioritize clients living in the following cities/areas:
East Orlando
Union Park / UCF / Waterford Lakes
Avalon Park
Baldwin Park
Winter Park
Oviedo
Lake Nona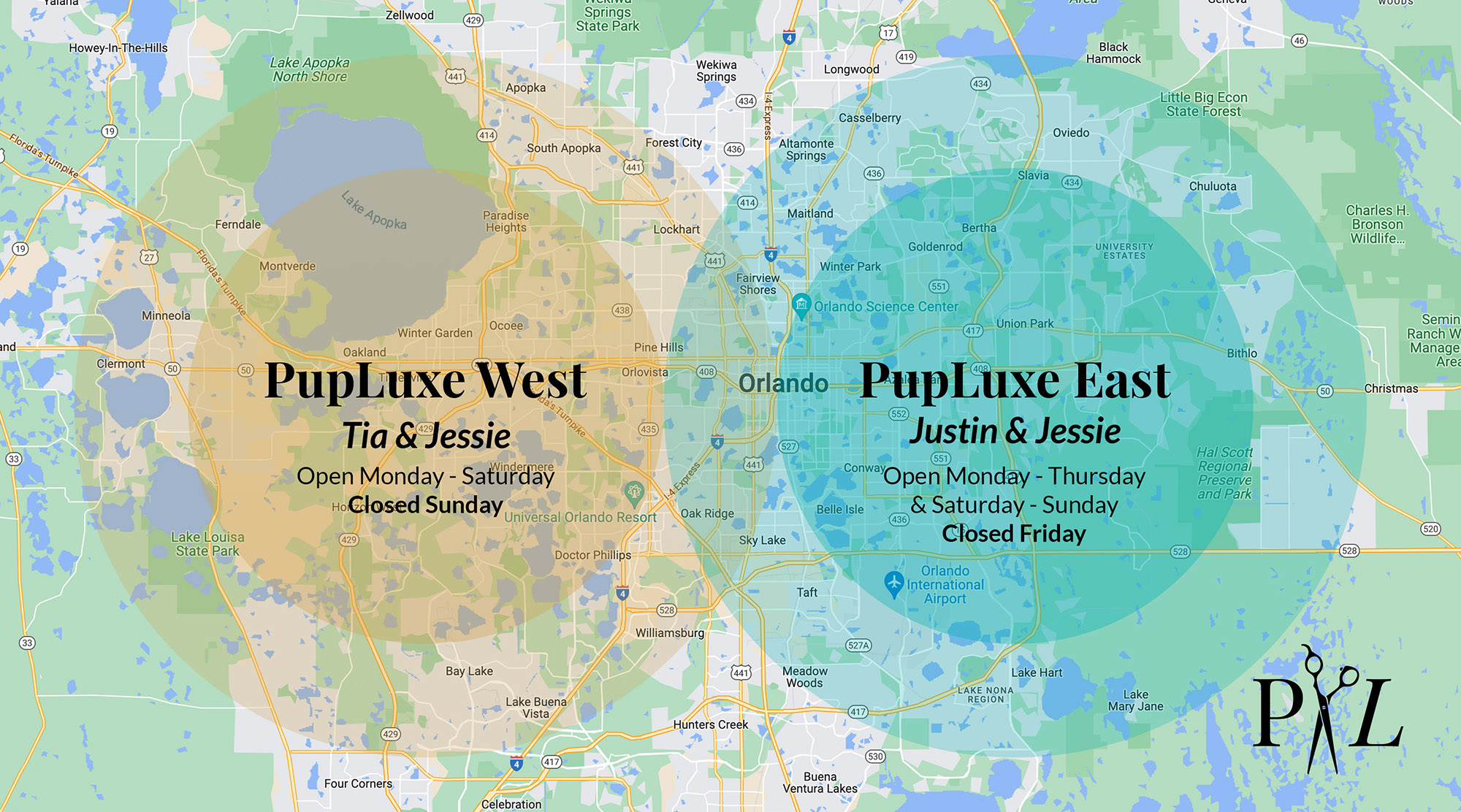 If you live in any of these places, don't be shy, fill out the intake form here.
Q:

What if I live a few miles outside of those service areas?

Fill out the intake form anyway!

Our salon is on wheels, which means we can go anywhere we want! But there must be demand for it. We will carve out days to travel to cities like Kissimmee, St. Cloud, Celebration, Groveland, etc. to service all of our clients in those areas, but the only way we'll know that you want us there is if you sign up via our intake form.
Q:

I have a [Breed of Dog] that needs a [Service] on [Specific Date]. When can you come and how much will it cost?

No worries, we are here to help! First, we need some information about you and your pup before we can discuss scheduling and pricing. Start here, then we will review your intake, and text or call you to talk about what we can do for you!

Please remember, we cannot see or feel your dog through the phone, so filling out the new client form is a crucial part of delivering our best service to you!
Q:

What vaccinations are required for my pup?

While we encourage you to have your pup fully up-to-date with vaccinations, we only require Rabies to be eligible for service. The only exceptions to this rule is if your pup is under 4 months old, or you have a signed letter from your vet that clearly states that it is not medically advisable to give the rabies vaccine to your pet. By law, all dogs, cats and ferrets 4 months or older must be vaccinated against rabies. This is why all groomers need to ask for this paperwork, even if we only see 1 dog at a time.
Q:

Can I request a quote online or over the phone?

Only after you complete your intake form will we have all the information we need to give you the most accurate quote. We have our starting prices listed in the Services page. There are many variables that play into the cost of the service including, but not limited to, the size and breed of your pup, the condition of their coat and the pattern/trim you are requesting.
Q:

How do I request an appointment?

If you are a new client requesting your first appointment, you must register yourself and your pup into our system and complete the required intake form. This process is super easy and can be done via your computer or mobile device. It is completely digital, no scanning, emailing, faxing or annoying paperwork involved, just an upload of your proof of rabies vaccination and a few form fields.

Once you've completed your intake form, you can request an appointment based on which service area best describes where you live. Currently we have two mobile grooming units: one for West Orlando and one for East Orlando.
Q:

What if I need to cancel or reschedule my appointment?

We understand that life happens and things can shift around unexpectedly. You can cancel or reschedule an appointment with no penalty if it is within 48 hours in advance of the scheduled time. Cancellations or reschedules made less than 48 hours in advance will result in your deposit being withheld (if you paid a deposit), or if you did not pay a deposit, you may be penalized by only being able to schedule future appointments if you pay a deposit moving forward. We may make exceptions based on the circumstances and on a case-by-case basis.
Q:

What payment methods do you accept?

We accept all major credit cards, Zelle, Cash App, Venmo, as well as cash and checks. Our payment processing system is through Square so we also have the ability to charge you by invoice if requested (established clients only, new clients must be present to pay in person at the time of service).
Q:

Do you give discounts?

Absolutely! We will give you $5 off for every 5-star review you leave us on Google and/or Facebook (for up to $10 off your next service). We will also give you $10 off for each referral that books with us and receives a service. Simply let us know when you request your next appointment if you've done any of the above, we will confirm on our end, and we will apply the discount to your scheduled service.
Q:

My pup has fleas. Will you groom them?

If your pup has fleas, we will recommend the Flea & Tick Treatment Pupgrade (starting at $40). This medicated treatment will not only kill existing fleas and ticks, it will also rehydrate your pup's skin to give them relief from itchy and dry skin. All pups with fleas must be done at the end of the day. If you are not the last appointment of the day and fleas are discovered, we must reschedule you to the end of that day if possible. If not possible, then we must reschedule you for the end of the day of another available day.
Q:

Do you sanitize between dogs?

Absolutely! Upon completing a service, we will sanitize the tables, tub and grooming area to ensure a clean and safe environment for the next pup.
Q:

How often should my pup be groomed?

For baths, active dogs and dogs with large fluffy coats should come in every 3-4 weeks. Dogs with shorter coats that are kept inside the house most of the time can be done every 4-6 weeks. It all depends on you and your pup's lifestyle and needs. For full grooms and mini grooms, we recommend that pets be groomed every 4-6 weeks depending on how much maintenance owners are willing to do at home. It's important not to go more than 6 weeks between grooms, as improper maintenance can damage your pup's coat and also cause discomfort and irritation. If your pup's coat becomes too tangled and matted, we may have to cut them to a much shorter length, which means they will not be as "cute and fluffy" as you'd like them to be.
Q:

My pup has an appointment but the forecast is calling for rain. Can I reschedule?

Unfortunately, rain comes with the territory of living in Florida. We will, however, have umbrellas in the van that we can use to keep your pup dry between walking to and from the van. The only exception would be severe weather that would make the driving conditions too dangerous to drive in (tropical storm, hurricanes, heavy rain with flooding, etc). In these circumstances, we will reschedule your appointment at no penalty to you.
Q:

How long does grooming usually take?

A lot of variables will affect how long it will take for your pup to get groomed, including their size, the condition and length of the coat, whether or not they have an undercoat, if you opted to get pupgrades and how cooperative your pup is on the table. Typically, our services should take between an hour or 2, but we will let you know if we believe it could potentially take longer.
Q:

Do you groom cats?

At this time, we do not have a groomer on staff who can expertly groom and bathe cats. We hope to be able to offer our services to our feline friends in the near future!
Q:

What's the best way to get in touch with you?

Submitting an intake form or Emailing us are often the quickest and most efficient ways to get a response from us if you are a new client. If you are an existing client, texting our dedicated texting lines at (833) 515-2511 (West Orlando) or (888) 994-4425 (East Orlando) is the fastest way to have someone respond back to you. Since we cannot answer the phone while driving to a service nor while we are working on someone's pup, you may have to leave a voicemail and wait until the completion of a service for someone to return your call. If you still prefer a phone call, you can call our mainline at (407) 907-4079.
Request An Appointment For Your Pup Today!
Treat your pup to the ultimate groom experience right in your driveway.
---
New to PupLuxe Grooming?
Start here!
For clients in West Orlando, Winter Garden, Windermere and surrounding communities
For clients in East Orlando, Avalon Park, Oviedo, Lake Nona and surrounding communities