Happy New Year from all of us at PupLuxe Grooming!
It's crazy to believe that we are going into a new year while only being in business for a little over 7 months. We have served so many pups in this period of time, hired a full-time professional pet stylist, and have learned so much about what it takes to run a mobile grooming business that operates 7 days a week.
We are so excited about the prospects 2023 will bring. We are expecting to add another mobile unit to our fleet, which will allow us to serve for more pups in other areas we weren't able to reach as much before. We will definitely release more details once we are closer to launch.
In order to continue to sustain the growth of our business, we are making a some operational adjustments effective as of January 2023.
Price Adjustments to Luxe Bath and Mini Groom Services
We are making adjustments to our pricing for the Luxe Bath and Mini Groom services. Effective January 15th, 2023, the starting price for a Luxe Bath will be $80. The starting price for Mini Grooms will be $100. The pricing for all sizes & breeds will also increase proportionally for these 2 services. Full groom prices will remain the same. All new clients will be scheduled with the new pricing immediately. Recurring/established clients will be notified prior to their upcoming appointments to ensure awareness of the adjustment. =]
Why are these services increasing?
When we originally launched, we used to charge extra for services such as deshedding and carding. Deshedding/carding pups would increase the price of the service by up to $30.
We realized pretty quickly that we didn't want to continue to charge these services as add-ons. The reason for this was that when given the option, many customers chose not to get these services done, even when their dogs really needed them, in order to save money instead. This went against our own company mission of helping pets achieve the healthy skin and coat they need to look and feel their best. So we started including them as part of any service at no additional cost.
The issue? It takes extra time to deshed pups with undercoat (ie Huskies, Great Pyraneeses, Pomeranians, etc), it also takes time to card the coats of short-to-mid-length haired pups (Labs, Golden Retrievers, Chihuahuas, Shiba Inus, etc). Taking extra time, but not costing any more for that time, is demotivating for our groomers, because in theory, they could make twice as much money doing a maintenance full groom on a 50lb goldendoodle, than they would giving a 50lb husky a bath.
We hope these small adjustments will be reasonable enough for our current clients to acclimate to and also help bridge the gap between the potential earnings our groomers can make and the time spent performing these valuable services to the pups we serve! =]
Appointment Scheduler: No More "By The Hour" Selections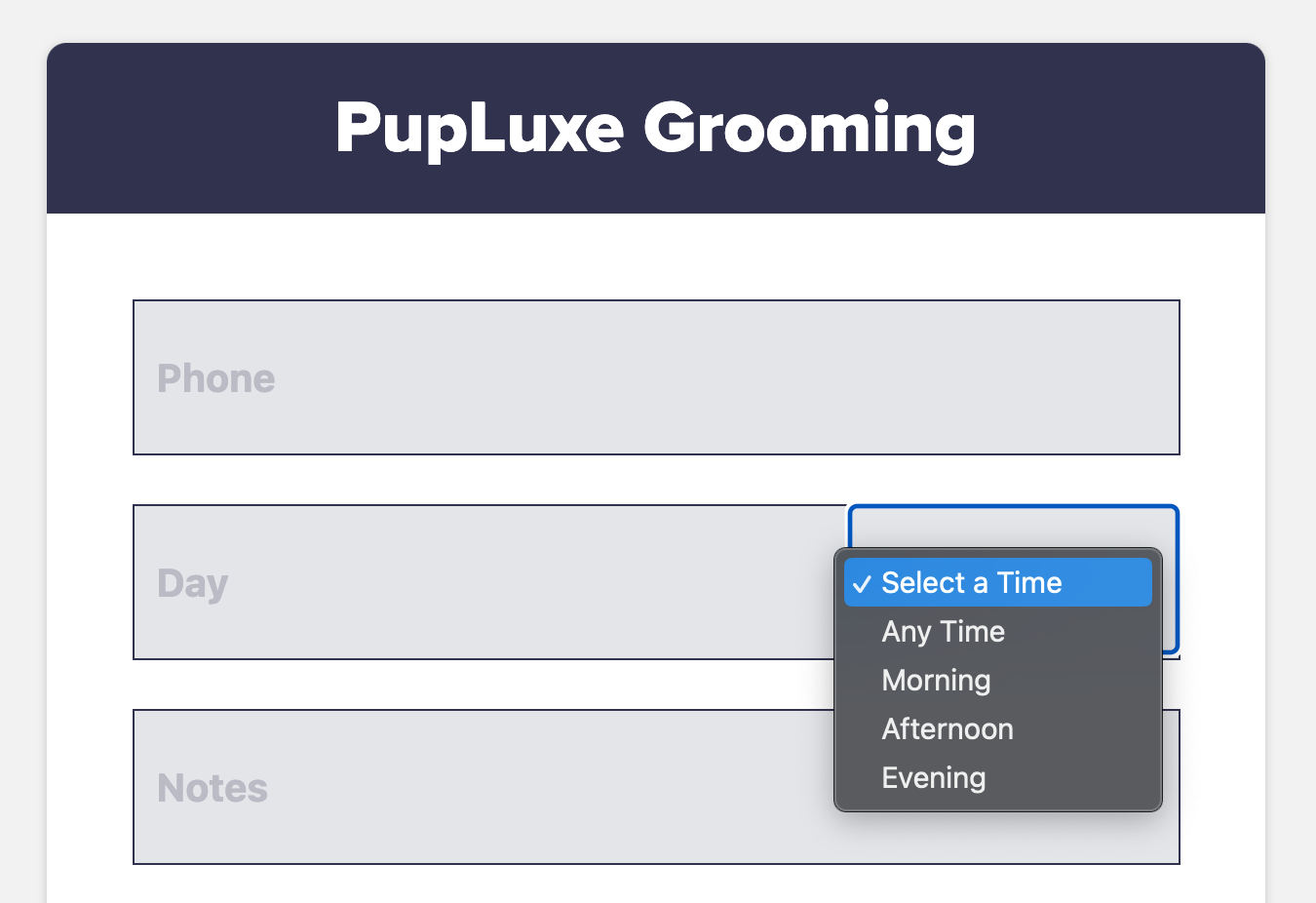 If you have requested an appointment recently, you may have noticed that we have changed the time selections on our appointment scheduler. You may only choose whether you prefer a morning, afternoon or evening appointment time, or if you're okay with any time at all.
Why this change?
Our system blocks out days that are full, but it's not like Booksy or Square where it grays out blocks of time that are taken. So even if a whole block of time is full (for example, our mornings are the most popular and are almost always booked), the option to select an hour in the morning always came up. This gave too many people the wrong impression that we had more availability than what we really had.
In order to curb the confusion, and to also encourage our clients to be flexible on their scheduled days, we decided to simplify the time selection. You can choose "Any Time", "Morning", "Afternoon", or "Evening." This makes it clearer that you are choosing a preference, not confirming a time slot.
If you have specific time constrains, we highly recommend using the Notes field to let us know. For example, if you must be scheduled after 4 PM on the day you selected, then let us know and we can tell you whether we can honor that request or not. =]
Discontinuing Rebooking/Recurring Appointment Discount
Early on when we were ramping up and trying to get new clients to establish a regular schedule, we tried to sweeten the deal by offering $10 off their services by getting on recurring schedules.
It was definitely well-intentioned, but over time, our groomers forgot this discount even existed (and so did most of our clients), and soon our books started to fill up so much on certain days that it made offering discounts an unnecessary incentive. For these reasons, we are no longer going to offer this discount in 2023.
Why this change?
The value of a recurring appointment is the assurance that your pup will be seen on a regular schedule by your favorite grooming professional(s), which will help maintain the health of their skin and their coat.
A regular grooming schedule is what makes it possible for doodles to look like teddy bears, for Pomeranians to looks like fluffy cotton balls, for Huskies to not be shedding messes of hair, and for all dogs to ultimately not become matted, stinky pups with excessively long nails, rashes and skin issues.
We believe pet parents should be motivated to commit to a schedule for the health and wellbeing of their pets, not because they were going to be rewarded with $10 off. =]
That's all folks!
As always, we are so grateful to all of our clients for being the best part of PupLuxe Grooming. We are here because of your support, and through your support, we are able to continue make an impact on the lives of pets and their parents in our community. Here's to another year of more happy pups and better skin and coats!