Welcome to the month of May! We are so excited to share some great news to our PupLuxe family.
We Are Expanding!
That's right! We will have our second grooming unit by May 12, 2023. In the 2 weeks following, we will be equipping it, prepping it, and doing any outstanding maintenance on our first van to ensure a successful launch by the beginning of June. This also means that we will have a new groomer who will be training closely with Jessie and Tia to learn the ropes of grooming the PupLuxe way.
We are adding Justin to the PupLuxe Grooming team
We are so excited to be adding our second full-time groomer just a few days before our 1 year anniversary (he will also be celebrating with us). Justin was a grooming academy student of Jessie just like Tia was. We are so confident that our current and future clients will absolutely love the stunning work he has to offer. Learn a little bit more about Justin by visiting our Meet The Team page.
Check out our new service areas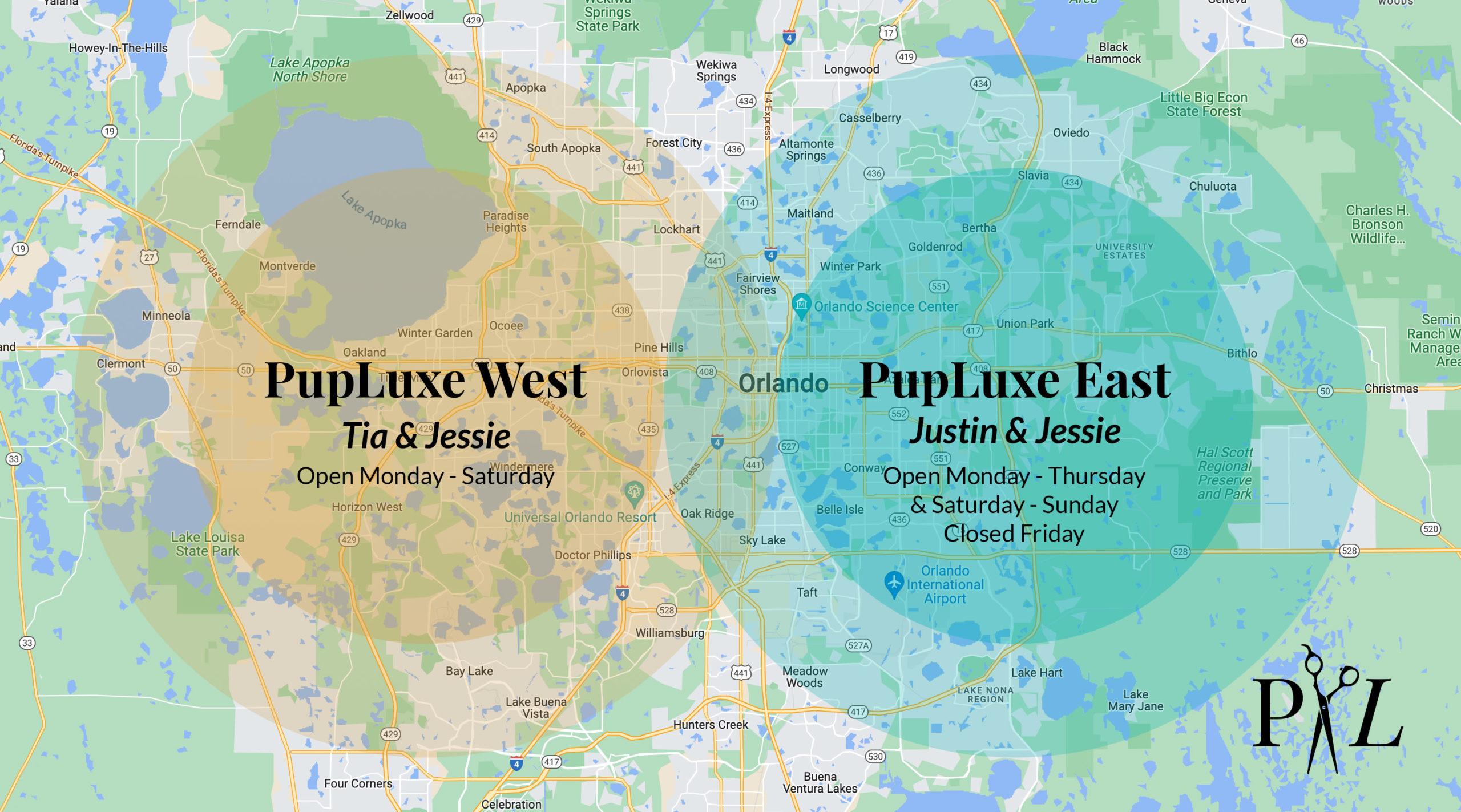 The map above highlights the service areas for both of our mobile units. The more vibrant colored circles are our "target areas". These are the clients we can easily accommodate any day of the week. The outer rims of the circles that are more transparent are areas that we can travel to when it is reasonable to do so. Clients living in or beyond the outer rims may need to be a little more flexible with their availability.
PupLuxe West will prioritize clients living in the following cities/areas:
West Orlando
Winter Garden
Ocoee
Apopka
Windermere
Dr. Phillips
Horizon West
PupLuxe East will prioritize clients living in the following cities/areas:
East Orlando
Union Park / UCF / Waterford Lakes
Avalon Park
Baldwin Park
Winter Park
Oviedo
Lake Nona
Scheduling Changes
With 2 vans and 3 groomers, we will have to make some scheduling changes to each van in order to achieve full coverage for both. PupLuxe Grooming will still continue to operate 7 days a week, but each van will have 1 day where it is not operated at all, except in the event of overflow, emergencies, or to accommodate clients who may need to have been moved due to a groomer needing to take time off.
Most notably, Jessie will no longer work on Sundays beginning July 1st. All clients who are currently set on recurring schedules with Jessie on Sunday must move their scheduled services to another day of the week that he's available, or choose to switch to Justin who will work on Sundays.
PupLuxe West NEW Hours of Operation (Beginning July 1st)
Sunday: Closed
Monday: Jessie
Tuesday: Jessie
Wednesday: Tia
Thursday: Tia
Friday: Tia
Saturday: Tia
PupLuxe East Hours of Operation (Beginning May 31st)
Sunday: Justin
Monday: Justin
Tuesday: Justin
Wednesday: Jessie
Thursday: Jessie
Friday: Closed
Saturday: Justin
What will happen to clients who already have a recurring schedule with Jessie or Tia that no longer fall within their service areas?
Fear not! If you like the groomer you have and want to keep them, we will do what we can in our power to accommodate their routes to still come see you. However, we may need to change your schedule (if you have a recurring schedule) to best accommodate you while keeping our groomers' routes efficient.
For example, if you had a Sunday appointment with Jessie, and you live in East Orlando, we will likely have to move you to Wednesdays or Thursdays, when Jessie is scheduled to drive the East van.
If you live in East Orlando and had Tia as your groomer, we may have to accommodate you on a dedicated day where Tia can service as many East Orlando clients as possible in a day.
If the day and time that you have is very important to you, we highly recommend giving the groomer that is assigned to your region a try. All PupLuxe Groomers are trained by Jessie, have access to the same products and supplies, and use the same systems and processes. We are very confident that no matter which groomer is assigned to you, your pup will be in great hands! =)